The Benefits of Conditioner for Curly-Haired Girls
There are several benefits of conditioner — especially for curly-haired girls. Maintaining a head full of sumptuous spirals presents a few challenges, including breakage, frizz, and dryness. 
Because curly hair has difficulty holding onto its natural oils, it often becomes dry and unmanageable.
With the right conditioner and hair care routine, you can keep your spirals smooth, shiny, and defined — and it's easier than you may think.
3 Main Uses of Conditioner
Conditioner often is associated with hydrating or moisturizing hair. But, there are three primary uses of conditioner: to replenish, moisturize, and recover. 
No. 1: Replenish
Shampooing your hair cleanses it, washing away allergens, debris, odor, and, yes, even oils. After cleansing, conditioning your hair replenishes some of the moisture the shampoo strips away. 
No. 2: Moisturize
Heat and chemicals can damage hair, resulting in dry, dull, brittle, and frizzy strands. Using conditioner revives your curls by adding moisture to damaged hair.
No. 3: Recover
Whether you color your hair or straighten it weekly, your curls go through a lot. Hair needs nutrients, which it can get from dietary intake and conditioner.
With the right conditioning formula, you can speed up your hair's recovery from the damage of flat irons and chemicals.
Common Mistake: Skipping Conditioner
Considering skipping conditioning your curls? You may want to think again. 
Oils have a difficult enough time spiraling down your locks to hydrate your strands from follicle to end. That is why Type 3 hair leans toward dry, dull, or frizzy. 
This dryness is why conditioning your strands is so essential to your hair's health and shouldn't be overlooked or skipped. 
Forgoing conditioner is a common mistake because your hair can become greasy if you use too much. But without it, hair is dry, brittle, and dull.  
To avoid excessive greasy strands and lackluster locks, you have to find the right conditioning formula and application balance.
What is Conditioner?
Most conditioners include some form of silicone, oil, emollient, and cationic surfactant (aka: soaps and detergents to wash away oil residue). These ingredients help to replenish, moisturize, and recover hair. They help coat your hair, lock in moisture, and reduce frizz, resulting in spirals that shine.
But, like any product, conditioner is only as good as the quality of its ingredients. Some brands use more harsh or even toxic alternatives that do more damage than good. Be sure the ingredients are transparently listed so you can read and understand them.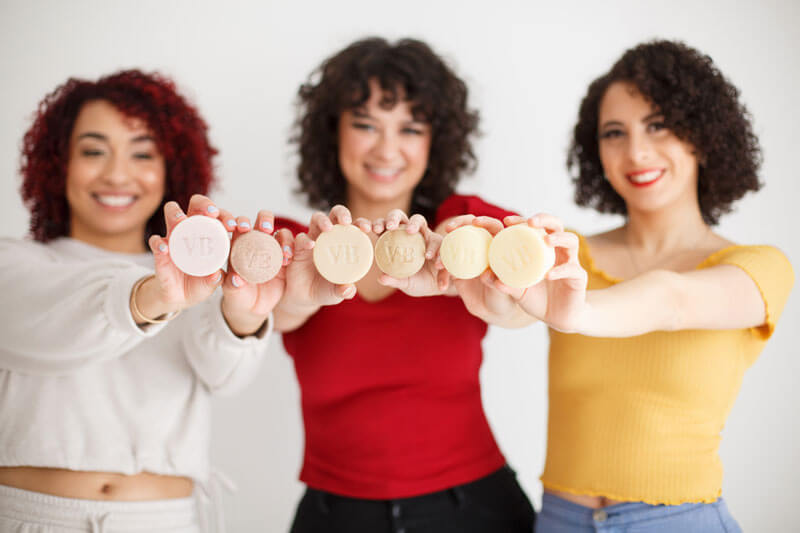 Categories of Conditioners
Everyone's hair is different. Various conditioners may be better suited for your hair between body chemistry, diet, hair care routines, and the like. An example is using a daily, leave-in, or deep conditioning conditioner. 
Daily
Daily conditioners often are lightly formulated so people can hydrate their hair daily without weighing it down. This conditioning treatment is one you apply after you shampoo and leave it in for a minute or two. 
You know your hair better than anyone. But experts suggest you apply a daily conditioner to your hair after every wash, which may be one or two times a week. 
Leave-In
Leave-in conditioners parallel daily conditioners by hydrating and locking in nutrients in your hair. Leave-in conditioners last longer than others because you don't rinse them out.
Although leave-in conditioners are light enough to leave in after you shampoo, curly hair may get a little bogged down by some formulas. 
Deep Conditioning
Unlike daily or leave-in conditioners, deep conditioners repair damaged locks and are typically heavy. 
Each brand's care instructions vary, but the average deep conditioner is left on your hair for about 30 minutes, then rinsed out. 
You should only apply a deep conditioning treatment about once every month or two. 
Given that conditioner benefits are replenishing, moisturizing, and repairing your hair, it may be beneficial to incorporate a deep conditioner into your routine hair care maintenance. 
Vida Bars Are Made With Curly Hair In Mind
Finding a hydrating conditioner formulated with quality ingredients and curly hair in mind can be overwhelming. Avoid conditioners that include sulfates because they will strip and dehydrate your locks, resulting in brittle and frizzy curls with little to no definition. 
Look for safe, natural, and healthy moisturizing ingredients on the label, such as:
Coconut oil

Shea butter

Avocado oil

Aloe vera
Vida Bars' shampoos and conditioners are crafted with purpose and formulated specifically for curly-haired women. Each ingredient is carefully selected to provide the best nutrients to nourish and define each curl. 
Shopping for a conditioner that does not weigh down or over-grease your curls? Give Vida Bars Hydrate Set a try. 
We handcraft our Hydrate shampoo bar with gentle surfactants, best suited for dry hair. We formulate it to gently clean your hair while hydrating and moisturizing it with ingredients like carrot root extract, Kokum butter, and panthenol.
We handcraft our Hydrate conditioner bar with moisturizing ingredients, best for dry, damaged hair. We formulate it to give your hair hydration and moisture with rich ingredients like Kokum, Murumuru, and Argan, some of the richest butters you can find. It will help your hair come back to life, with a good balance of quinoa protein to help repair the damage.
Shop our hydrate set and learn more about each nutrient-rich ingredient your curls are missing. 
Embrace Your Curls and Be Part of Our Story
VidaBabes Are the First to Know About New Products and Exclusive Discounts!